Advertisments
Find us on Facebook
Advertisments
Lasithi and all Crete, an excellent choice for relaxing holidays Share it on Facebook
The island of Crete is located in the center of the eastern Mediterranean at the crossroads of Africa, Asia, and Europe. It measures about 200 Km from east to west, and between 12-58 km from north to south the smallest and largest length, making it one of the largest islands in the Mediterranean sea.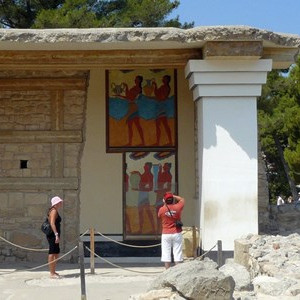 Minoan settlements (developed between 3000 and 1100 BCE), tombs and cemeteries have been found all over Crete (See Minoan Crete archaelogical Map ) but the four principal palace sites (in order of size) were at Knossos, Phaistos, Malia and Zakros. Religion played an important role in Minoan Crete and many activities, and artistic products revolved around religious cult. As evidence in the art of the period, the Minoans deified the natural world and found in it, a logical order that allowed man to live in harmony with the natural environment. Contributed to this, the rich ecosystem of Crete.
Besides today botanical studies reveal that the island has one of the richest and most interesting ecosystems in Europe (about 1,750 plant species and subspecies), with a large number of endemic plants, ie. Plants are native only Crete, like Malotyra (siderites syrioca, also known as Cretan mountain tea) and Diktamnus albus ( commonly called dittany, or "Erontas" in Cretan dialect ) are amongst the endemic flora of Crete known since ancient times for their beneficial properties.
Apart from the historical wealth that the traveler may be privy, there are numerous beaches that visitors can enjoy and relax. Particularly in lasithi the greenest prefecture of Crete, there are dozens clean natural beaches, the most of them awarded, and several beautiful canyons.
Visiting Crete, you should definetely visit the following: