Advertisments
Find us on Facebook
Advertisments
Useful advices for gasoline economy on vacation Share it on Facebook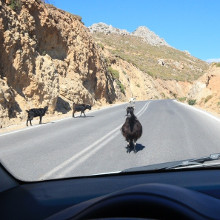 In summer, the kilometers that we drive are increasing dramatically. Whether for short excursions to nearby beaches on weekends or for longer trips, the speedometer will increase and the holiday cost will increase sharply. There are some basic tips that can reduce your fuel costs by up to 30%!
1.Change oils.
Even if the time for change has not come yet (but near) the new lubricants improve the operation of the engine, reducing friction and allow it to operate more efficiently and economically at high temperatures.
2.Change air filter.
Engine breathing is directly related to performance and consumption. An already dirty air filter on an island with dust and sand will just do the situation worst.
3.Change the spark plug with a new one if approaching the replacement time.
The combustion will be better .
4. Load with the right way the car for your holidays.
Items tied to the roof without special aerodynamic luggage compartment, significantly affect the consumption but also affect safety.
5. Inflate the tires to the correct pressure specified by the manufacturer.
Deflated tires increase fuel consumption by up to 10%
6. Be observant.
If at some distance you see brake light from the leading vehicle, do not continue with the speed you have. Let your foot off the accelerator and let the car slow down slowly. it is possible the front car to start again in the meantime, so you do not need to halt .With this way you save the large consumption of the motor when starting from standstill.
7. Do not turn off the air condition by opening windows for fuel economy at highway speeds.
You destroy so much the aerodynamic of the vehicle that eventually you will consume more fuel than the option with the air condition turned on and the windows closed.
8.Leave enough distance from your front vehicle.
So you will not need to brake and accelerate abruptly, that eventually increasing consumption.





9.Drive calmly.
In highways select the permissible speed and do not make unnecessary changes. Following only this advice you can save 10% of fuel.
10. The phenomenon of thermal expansion
Gasoline to buy, you pay per liters. Because gasoline at morning has a lower temperature, it is denser (ie the gasoline molecules occupy less volume) . So eg 72 euro fuel supply by the price of 2.4 per liter corresponding to 0.3litres profit if we fill the tank early in the morning.
Happy travelling, drive carefully, and always remember that alcohol and driving is a dangerous combination